Chef Talk Interviews
Interview segments with restaurant owners and restaurant chefs...
Antonio Mermolia - IL Punto Ristorante - New York City, NY

It's a classic story of a New York restaurant owner travelling in Italy and discovering an amazingly talented young chef.

Robert's Steakhouse - Atlantic City, NJ

In a city full of steakhouses comes another entrant.
Bob Gans & chef William Savarese are committed to being tops in the city.
---
---
One for the Season's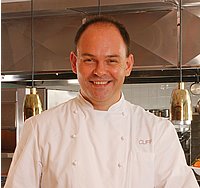 The new wording is "Chef/Partner", and that is what you will see with Season's 52. It's their way of saying that we are a "chef driven" restaurant, which in the eyes of the public is a good thing. Stephen Judge had the appropriate answer …"It's not about chains, it's about change!"


More Restaurant Owner & Chef Interviews