Ed Batten - A Chef Goes the F&B Route...
By Bob Bickell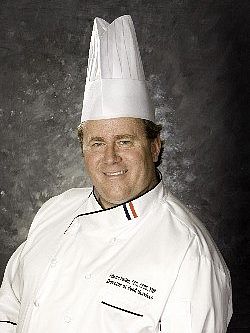 RR: I hope you don't mind that we used your chef photo because I have always known you as a chef. Harrah's has sent you to their Chester property as the Director of Food and Beverage which means it's time to don a suit.
Chef: No problem - Once you become a chef, you will always be a chef, and it will take me some serious time to learn the tie and jacket routine.
RR: What are the implications of making a move from Atlantic City to a small town just outside of Philadelphia?
Chef: One of the great things about the past ten years is living at the shore. It's a great life and I'm not sure that I will leave the area. I plan to commute for a while and I will see what happens. From a career standpoint, I love the new challenge and that's what makes my profession so interesting. There is always something new and everyday is something different. Harrah's is a great company and they have treated me well. I'm sure Chester will be no different in this regard.
RR: You began your career at age 12 washing dishes in a diner, and of course, there was time spent in Culinary School at the Academy of Culinary Arts in Mays Landing, and let's not forget your time as the executive chef at Old Original Bookbinder's in Philadelphia. Somehow, someway you ended up in Atlantic City as the executive chef at Harrah's Steakhouse and eventually the additional responsibility of Harrah's Director of Food Service.
Chef: It was all good and it was all very closely related. By the time I turned 16, I was cooking at the diner and I knew what I wanted to do for the rest of my life. I will never forget my days at Bookbinder's and it still bothers me that Old Original Bookbinder's is no longer in Philadelphia. It was one of the classic restaurants in the entire world.
RR: But certainly a major difference than working in an environment such as the Steakhouse at Harrah's Resort and Casino.
Chef: Not really... The Casino is a different world, but in essence, it's still the same. The diner, Bookbinder's, and the casino - it's all about the food and serving your guests. A chef does what he does no matter where he does it. I will admit that the casino is a very different stage than the diner, but believe it or not, conceptually, they do the same things.
RR: Let's talk about culinary school. Given what you know now, and given the opportunity to start over, would you enroll in a culinary school?
Chef: Absolutely. Things have changed and culinary schools play a major role in our food culture. Just look at the Culinary Institute of America. Back in the day they had one location and now they have three with the additions in the Napa Valley and San Antonio. Chefs are getting younger and the serious graduates are are more worldly than we were. They train in some of the best restaurants in Europe, and certainly in the United States. They build their resumes by working for free in the kitchens of Thomas Keller, Charlie Trotter, or a Rick Bayless. They sleep in their cars and they get jobs on the side just to survive, but in short order, they have big jobs in great restaurants and they are on their way to become something special. I have to believe that the culinary school experience is enormously helpful.
RR: Back to your comment that "there is always something new, and everyday is different". I would think that after ten years in a casino kitchen, or any kitchen for that matter, it could become somewhat boring.
Chef: I can't envision ever getting bored when your profession includes food. Food is constantly evolving. Just look at where we are today - everyone is talking about the subject of organic ingredients. Chefs are doing their own gardens as part of the eat-local-food movement growing their own tomatoes, herbs and other produce. We are flying in new products from all over the world, and we are witnessing major changes on our culinary scene. I would include the emergence of foods from Mexico to Brazil and from places such as Vietnam, Korea, and Laos. The younger audience is into small plate concepts such as tapas and the face of fine dining is definitely changing. Look at what Jose Garces is doing in Philadelphia, and so much is so new and exciting.
RR: Allow me to ask you about casino dining. Are non-gamblers supporting the restaurants in casinos, or are the restaurants really conceived for the people who have come to gamble?
Chef: No matter where restaurants are located, they are gigantic investments and it is critically important for the casino industry to attract a major dining-out audience that certainly includes the non-gamblers. People are looking for a great restaurant experience and you will find great restaurants in the casinos. It's all about branding and people go with the names they know and it's a constant challenge to keep things interesting while serving the best food on the planet.
Keep in mind that the gambling is pretty much the same in every casino. A slot machine is a slot machine even though one might be a bit more creative than the next, and the table games all look the same. The restaurants have to be a big part of why people visit a certain casino and that includes more than just people who come to gamble. Harrah's added the Viking Kitchen concept which is for people really interested in food. The classes attract everyone from experts to food novices. And yes, these students, so to speak, visit our restaurants.
RR: So after ten years in Atlantic City, it's your time for the next challenge, and you probably have a lot to learn in a short period of time.
Chef: One thing I learned at culinary school is that a chef will always be a perpetual student. Your experience is part of the process, but you have to adapt to the things that are new and different.
RR: As you arrive in this new job, what is the most important thing that you have to learn?
Chef: The answer to your question is that I've already learned it. The challenge in the restaurant business is building a team where everyone involved is doing the right thing. You can have the best food in the world, and you can have a great chef in the kitchen, but if the server fails to please the guest, that guest will never return. I believe service is more important than anything else and I plan to make sure that we have the best service that is humanly possible.
RR: What about the suits?
Chef: You bring up a good point. I do have to buy some suits, but my real worry is the shoes.
Harrah's Chester Casino & Racetrack
777 Harrah's Blvd.
Chester, PA 19013
(800) 480-8020
www.harrahschester.com
---
Copyright © 1997-2023 Restaurant Report LLC. All rights reserved.