No food has received as warm a welcome in an adoptive home as pizza has in the United States. Last year, Americans ordered more than 5.5 billion pizzas, according to the market research company NPD Group, more than any restaurant item other than burgers and fries.
Pizza is still a viable business, but make no mistake, it's not as easy as it looks. Pizza ingredients are decidedly more expensive then ever, and we are actually seeing more and more pizza concepts actually go out of business.
---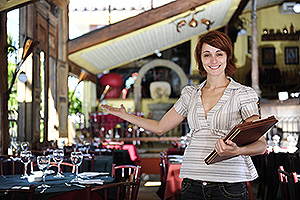 Free Newsletter - Restaurant Marketing, Operations, Service & People Tips...
One can't miss article in each issue!
Sign-up for free and get the very next issue...
---
The guidelines for starting a pizza restaurant - or any food-service establishment are very similar, but let's look at some thoughts before you charge off and open "Giovanni's Pizza & Pasta Emporium"!
1) Dough experience - do you know how to make dough? Do you know what makes a great dough - and what causes dough to taste like cardboard? The difference is knowledge, technique, and the few pennies more per pie that you will spend, when you buy the best ingredients. And if you do not know how to make dough you will need to do two things. Firstly go & work long hours in a neighborhood pizzeria, and secondly go & attend a class at the American Institute Of Baking in Manhattan, KS (note that is Kansas - not New York City). Their web-site is: https://secure.aibonline.org/php/ecomm-catalog.php?catalogNbr=377&site=
2) Business experience - do you have the self-discipline to run your own business? Do you realize that working 100+ hours per week is normal? Sounds like too much work? Then go find something else.
3) Location, location & location. Yes - location is important. But first let's decide what kind of place you will be running. Is this eat-in - with some take-out? If so you need a good high-visibility location with great parking. But if delivery is going to be your primary focus, you do not need such high-visibility, and you only need parking for your fleet of "highly trained" delivery drivers.
4) Now let's discuss your location once again. Was this place used by a food-service operation before? If so why did it close? Does it have a history of health dept violations? Why start off with a place that has a bad rep?
5) If the location was not a food operation, can you obtain the proper permits? And before you start running 3-phase electricity & gas into the building, ensure that your rental contract protects you against early termination. After all you do not want to invest thousands of dollars into a building that you might only occupy for a couple if years. Of course if you have bought the building, you will own any improvements you make. BUT - make sure that you can obtain all the correct planning, health, fire, etc permits before you buy - and before you spend any money.
6) MONEY - and before you go too far into this venture, you might want to just check that you have enough money to go forward. Not only for the building (and the installation of that multi-dollar grease trap, etc and other items that are required before you can obtain permits), and all the equipment, but to keep the business running for 12 months whilst you establish yourself. Lack of money is the number one reason that businesses go out of business. It takes time to build up your reputation & establish yourself so that you reach a break-even point - let alone pay yourself anything like a livable salary.
So now we have established that you have the money & expertise to run a pizza operation.
Have you decided on your menu? Are you eat-in / take-out / delivery? Or a mixture of those? What are your hours?
Let's take the type options in reverse order
Delivery, this will likely (in fact must be) a high volume operation. Given the speed at which an order must be prepped, cooked & delivered - and the quality of the staff that you will probably have - the best type of oven for you will probably be a conveyor oven. You puts the pie in one end, and it comes out perfectly baked at the other end about 5 minutes later. All your staff has to do is ensure that the dough was properly prepared (following your recipe); they then dress that dough with the correct amount of sauce - and the correct weight & volume of toppings. Once cooked the pie goes into its box, into the thermally insulated/heated transportation container - and then one of your highly trained & well skilled drivers will whisk it to the customer. Of course if you can combine several deliveries at once this will assist in your costs - but it may take time before that happens. One of the advantages of this type of operation is that you do not have to provide seats & tables for customers - nor do you have to have the wait-staff, etc. And you can always provide take-out to those customers who roll up to your front-door.
Eat-in (with take-out available). Once again you have a choice here. Are you going to make this into an eye-catching slightly upscale place with a broader menu, or is it just going to be a simple pizza place producing a limited menu.
In either case you need to follow these rules:
(1) Great looking & great tasting food. Remember that people eat with their eyes before they eat with their mouth. So make it look good as well as taste good. Constantly taste the food yourself - otherwise you will not know how it tastes! Sounds simple, but you would be surprised how many operators do not constantly taste their food.
(2) Fair prices - I did NOT say cheap. People will pay more when they know that they are receiving great food at a fair price. Lousy food at a cheap price is no bargain.
(3) Fantastic service. And that starts with attitude, and that attitude starts with you. If you roll into the restaurant looking like hell, and complaining at everyone & everything - then that attitude will quickly migrate into your staff. It does not matter that you only got three hours sleep in the last week - you need to be freshly bathed, in a clean non-wrinkled uniform, with a big smile on your face. And keep that smile there the whole time you are working. It's the most important part of your uniform. And if your staff is unhappy about something - find out what it is - and correct it immediately, or explain what you are doing to correct the situation. Your staff are the most important part of your operation - you may not chat with all your customers, but your staff will chat will all of them. And unhappy staff can drive away customers.
(4) Friendly & inviting environment - if the place looks inviting, they will come! So make it bright cheerful - and safe. Safety (food, physical & environmental) is of paramount importance. One accident can close you down.
(5) Name - the first rule of marketing is to start the name of your business with the letter A - or (if you have to) the letter B. You will then be at the top of telephone & internet lists. And your customers will not scroll down through pages & pages to find you. Such a simple but important rule.
And we did not even touch upon equipment yet!
More on that in a future article...

John Bowerman-Davies (JB-D) has run his own restaurant - and has worked as a consultant & supplier to the restaurant industry for many years. "JB-D" is with C & T Design, working for their Kentucky operation - but selling & consulting not only in North America, but throughout the world. You can contact him at: jbd@c-tdesign.com.