Despite all the buzz about social media today, many restaurant owners remain hesitant to jump on board. They're wondering whether it will turn out to be all hype...whether it's actually worth their time and advertising dollars in the long run. Well, I'm here to tell you this is not a fad that you want to shrug off. Social media is everywhere and ignoring it will only hurt your restaurant.
Facebook and Twitter...What's in it for you?
These social media giants will make your restaurant highly visible to existing and potential customers when and where they are most likely to be talking about you. They allow your patrons to share their experiences with their networks of friends and family faster than ever before. These outlets provide a platform for communicating with and relating to your customers, which has been proven to keep them coming back. Simply put, social media can turn your current customers into walking, talking billboards for your restaurant which ultimately translates to more new customers and increased sales.
Where should you be?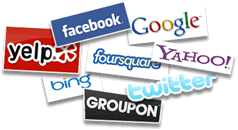 In 2010, U.S. internet users spent more time on Facebook than on Google, Yahoo, YouTube, Microsoft, Wikipedia and Amazon combined.1
It only makes sense to be where your potential customers spend most of their time. And while Facebook and Twitter may be fairly obvious answers, there are numerous other platforms that restaurants are using to reach and engage their customers.
Foursquare and Gowalla are location-based social media sites that reward customers when they broadcast that they've visited your restaurant.
As a restaurant owner, you should also be aware of your presence on online review sites. While they aren't technically considered "social media," many-such as Yelp-encourage interaction and responses to reviews. Your Facebook and Twitter pages can also be great sources of customer feedback.
Still not convinced? Check out these numbers.
A study indicates that more than 50% of Facebook fans and 67% of Twitter followers feel more inclined to buy from brands they are social with online.2
In just 20 minutes on Facebook, over 1 million links are shared, 2 million friend requests are accepted and 3 million messages are sent.3 That's a lot of interaction!
In August 2009, Yelp had over 25 million daily unique visitors.4
Social media's advantage over any other advertising platform is this: users are there because they want to connect. They want to listen and they want to be heard. Finding unique ways to engage your customers, resolve issues and reinforce positive feedback is imperative if you want to keep them walking through your door.
So what are you waiting for?
Get your restaurant on Facebook and Twitter. Initiate conversation and begin connecting with potential new customers. Do some research so you know how to do it right or hire a social media manager if you don't have time to get it done yourself. You may be surprised what social media can do for your restaurant!
Footnotes:
1 Mashable.com: http://mashable.com/2010/02/16/facebook-nielsen-stats
2 eMarketer: http://www.emarketer.com/Article.aspx?R=1007568
3 DigitalBuzzBlog: http://www.digitalbuzzblog.com/facebook-statistics-stats-facts-2011
4 Yelp!: http://www.slideshare.net/SocialMediaMC/social-media-statistics-2010-update-3645254

---
Kelsey Zirkle is a Social Media and Internet Marketing Consultant with GrowYourRestaurant.com. Leaders in cutting edge marketing for restaurant owners, GrowYourRestaurant specializes in managing social media, local optimization, online reviews, mobile and email marketing for restaurants. Find out more at GrowYourRestaurant.com or contact us at Contact@GrowYourRestaurant.com.
---