6 Fool-Proof Photo Tips for Your Restaurant's Instagram Account
By Kim O'Brien
How many times have you caught customers snapping photos of food at your restaurant table? Chances are, they're posting it to Facebook, Instagram, or Twitter - and advertising your restaurant to all of their followers, completely free.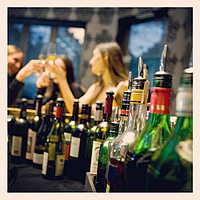 In today's social media driven society, it's time to take a hint from shutter-happy patrons and do just the same. By setting up an Instagram account for your restaurant, you're not only advertising images of your food to the public, but creating a place to interact with customers should they choose to follow you.
With more than 130 million active users per month and 45 million photo uploads per day, Instagram has become a springboard for advertisement and customer interaction. Just take a look at the follower count for Starbucks and Pinkberry - a whopping 1,380,529 and 39,000, respectively. But you need not be a foodservice giant to win over followers. By simply posting localized contests (such as encouraging customers to post a befitting image of the city you are located in, and tagging your restaurant name), you are engaging with your audience even after they leave the dinner table.
Of course, you won't gain followers without some appetizing photos worth sharing. Check out the tips below from leading restaurant supplier and resource WEBstaurantStore.com. If a picture really is worth 1,000 words, then it's time to let your Instagram do some talking! Follow these fool proof photo tips:
1. Keep Lighting Au Natural
Avoid using flash and harsh overhead lights, which make food items appear pale, washed out, and unappetizing. Instead, take photos near a window or softer light source. If your lighting options are limited, situate your food dish so that light is cast on it from one side to create shadows for a more natural-looking appearance.
2. You've Got the Lights & Camera, Now Create Action
A few simple kitchen props can turn an image from bland to enticing! Enhance a drink photo by placing the beverage bottle and splashes of water around the serving glass. Photograph a full wine glass with the bottle and cork showing in the background. Place a spoon next to a bowl of soup, a fork next to a plated dish, chopsticks next to sushi, or situate a straw in a beverage.
3. Add Dimension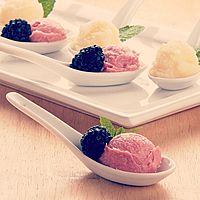 Soup, stew, ice cream, and other items with a "mushy" texture are not always the most photo-friendly. To add dimension, place a garnish that contrasts in color and texture from the dish being photographed. Place bright berries atop of ice cream and sorbet. Sprinkle green garnishes like parsley and cilantro on soups and stews. Add fruit wedges to smoothies and other blended beverages.
4. Get Creative with Composition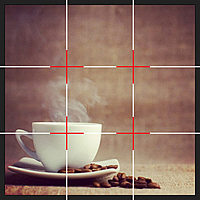 While it might be tempting to post yet another zoomed-in shot of your signature dish, try breaking away from traditional composition and apply the "Rule of Thirds." Imagine that your photo is being broken down into thirds (both horizontally and vertically), so that you have nine total parts. Place your photo subject at an intersection point for a more intriguing image. For example, place a coffee mug in the bottom left area of the frame, rather than a typical front-and-center image.
5. Show More than Just the Menu
Give customers some images from beyond the dining room. Got a witty sidewalk sign? Post it! Don't be afraid to show some personality. Snap a few photos of your kitchen staff and chef at work (just be sure that they're demonstrating food safe procedures, such as wearing gloves). Capture images of guests enjoying their meals (with their permission, of course!). Post a pic of your outdoor dining deck on a sunny day, or an inviting image of your restaurant's interior on a chilly afternoon.
6. Enhance Images with Filters
Free and reasonably priced, downloadable apps make it easier than ever to enhance and photoshop your images. For all-around edits like cropping and modifying color, try VSCO and Camera Plus. To create a collage, try apps like Pic Stitch and Diptic. For fun frames and clip art, try PicFrame and A Beautiful Mess. Add a crisp white outline to photos with Whitagram.
For more tips and tricks on how to utilize Instagram and gain followers, view Instagram Marketing for Your Restaurant Business.
---

Kim O'Brien is a writer for WEBstaurantStore.com, the leading restaurant equipment and supply store on the web. Founded in 2004, the WEBstaurant Store has shipped over 2 million orders to foodservice professionals worldwide. For more industry guides, check out their Food Service Resources page.



---
Copyright © 1997-2020 Restaurant Report LLC. All rights reserved.