Food Processors: A Buying and Maintenance Guide
By Greg McGuire
Food processors and mixers have evolved considerably in the past decade to become more versatile and more powerful, meaning they can satisfy a growing number of food preparation tasks in greater capacities.
A food processor has a central motor, usually self contained, that drives a shaft to which a blade or other cutting implement is affixed.
Food is either processed in a bowl for sauces, soups, or finely diced vegetables, or through a continuous feed chute that allows sliced or shredded vegetables to be ejected quickly into bins.
What to Look For When Purchasing a Food Processor:
Be sure to size your new food processor to the task. If you overwork the processor by constantly pushing its capacity, you could shorten its lifespan and effectiveness. Manufacturers usually list this information for each model.
Some units have more than one bowl size, allowing you to change the capacity according to what you are processing. This is especially useful if you have medium and small size processing tasks.
Variable speed units are more versatile and can handle foods of different densities.
Look for units that come with multiple attachments. The more attachments a unit has, the more food preparation tasks it can perform in your commercial kitchen or restaurant.
Safety features that prevent kitchen staff injury, especially with new or untrained help. The most common is an automatic shut-off feature.
Types of Food Processors
The most important factor in choosing the correct food processor is to select a machine that is right for the type and quantity of food you want to process.
For maximum versatility, a Blixer, or combination mixer and blender, is ideal, with emulsifying and liquefying options that can blend sauces and soups without too much aeration plus the normal chopping and grinding features of a food processor.
Bowl mixers chop or grind relatively small amounts of core ingredients like garlic, shallots, or basil.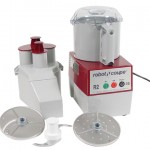 Combination models feature a variety of cutting blades and can perform multiple tasks, such as slicing, shredding, kneading dough, and julienne, plus normal chopping and grinding functions.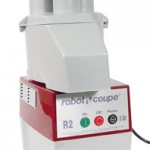 Vegetable prep models have a continuous feed chute that allows you to chop, dice, shred, grate, or julienne large amounts of vegetables at a time.
Heavy duty floor blixers and food processors are designed for large operations and can mix, blend, or process up to 1,200 lbs. per hour.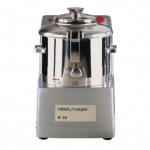 Vertical cutter mixers feature a continuous feed chute and a large capacity stainless steel bowl, have a variety of blade attachments, and can process larger volumes than a standard bowl mixer.
Caring For Your Food Processor
Food processors should last seven to ten years if used and maintained properly. Typically, a food processor does not require much maintenance, since the motor is usually a sealed unit.
However, a few basic steps can be taken to maximize your food processorís life:
Wash food processor bowls, attachments, blades, covers, and pushers regularly. Most are dishwasher safe.
Always use the food pusher that comes with your unit to guide food into the processor. Not only is it unsafe to use other objects or hands, but damage to the unit could also result.
Donít overload the machine. Itís important to size the processor according to the types and quantities of foods you wish to process. Too small of a machine or one without enough horsepower for more dense foods will not last as long or work as efficiently as a larger one.
Blades and attachments become dull over time and should be replaced.
---
Greg McGuire is a regular contributor to The Back Burner, a restaurant news, trends, and marketing blog. He also works for eTundra.com, a company specializing in restaurant equipment, supplies, and equipment parts.
---
Copyright © 1997-2020 Restaurant Report LLC. All rights reserved.