Brilliant or a Threat? The Pros and Cons of Restaurant Technology
By Ahmed Abouelenein, CEO of The Halal Guys
The last few years have been a roller coaster for the restaurant industry. The ongoing pandemic eliminated a devastating number of food establishments and forced others to creatively improvise a path forward. As the world adapted to our "new normal," the restaurant industry took some time to find its footing. But, the industry may have found a lifeline by trading in traditional forms of hospitality for digital customer convenience. The real question is, are digital technologies helping or hurting the industry?
Third-Party Delivery's Impact
Third-party delivery apps instantly gave customers access to food options across their area. These apps became like Netflix for food, with practically limitless options for local fare that promised food experiences users could never get bored of. This simple innovation proved useful for both patrons who liked the expansive options and local restaurants eager for new customers. While this type of convenience was a hit to anyone with an appetite, restaurant owners would soon experience a different kind of hit –– a hit to their bottom line.
Despite a surge in online sales, third-party apps also increased competition among local establishments by eliminating location barriers for customers.
Third-party delivery also became pretty pricey for food purveyors who had to fork over above-average commissions just to get the sale. This was manageable enough until operators realized they were at a tremendous disadvantage by not having access to customer data –– a valuable asset for business growth.
This had the unintentional side effect of making restaurant owners feel like just another cog in the wheel of a larger company's business model while having to take on a substantial financial cost.
Third-party delivery boomed during the pandemic as homebound consumers became increasingly reliant on smart tech to access restaurant meals. eGrocery startups, for example, raised $5.1 billion in 2020. Since then, convenience has been a driving factor in customers' dining decisions. Why is that convenience so essential? Because it's low-hanging fruit. Convenience saves people the one thing we can never get back: our time.
As the restaurant industry navigated the pandemic's turbulent waters, the reliance on automation began to expand like never before, and tech innovators saw a profitable long-term opportunity.
Smart Tech's Benefit to the Restaurant Industry
According to the 2021 AGRIFOODTECH investment report, investment in innovative food startups doubled year-over-year since the pandemic, and deal activity grew nearly 60%. Investors and venture capitalists have been cashing in investments in technologies like new point-of-sale systems, 3D food printers and shelf-stacking or burger-flipping robots. This investment will have a financial boost on the food industry, helping it to recover from the tough past two years.
The Halal Guys current technology stack offers both guests and restaurant operators the solutions they need. Guests gain convenience and restaurant owners are gifted efficiency and fewer headaches – third party order ingestion to POS has reduced labor, reduced mix up of orders and increased productivity. Our solutions have seen an increase in loyalty guest acquisition of 38%, increased order fulfilment by 42%, and increased sales 27% systemwide. This makes technology an excellent solution to profitability, sustainability, labor shortages, quality control and more.
Smart Tech's Drawbacks to the Restaurant Industry
Despite the positive impact technology has on the industry, there are also some drawbacks.
There are already so many types of new tech out there, that adopting all of them is expensive and not feasible for operators. While some of the technology has been successfully implemented so far, the long-term costs of all the shiny new toys may not be worth it for restaurant owners.
Consumers have practically everything at their fingertips, and finding the most convenient option becomes a cycle that continues driving new innovations. Restaurant owners will have a bumpy road ahead as they try to keep up with the latest tech. Investing in new technology frequently could create an additional financial burden on businesses, especially considering some of the new smart-tech takes a portion of a businesses profit. Brand owners are also on edge to provide alternate solutions to downtimes of these platforms. As an example, in December 2021, all major North American businesses utilizing the services of Amazon Web Services (AWS) experienced a 12-hour downtime. The Halal Guys was not exempted as our main POS database rides on AWS. This affected our business tremendously where all platforms integrated to our POS had to work as standalone or offline. This led to an increase in chargebacks, missed orders and a poor guest experience. Additionally, our curbside pickup was impacted as our stores were not able to retrieve necessary order details to ensure complete order accuracy.
Smart tech can also lessen the traditional welcoming nature customers experience when dining in and would be replaced with digital experiences that restaurant owners have less control over. It's a less than fair trade-off where restaurant operators don't get to know or form a bond with customers, ultimately making them even more reliant on tech solutions to keep bringing sales to their establishment.
To Adopt or Not
Technology has always been a sign of the changing times, and many well-established industries often become casualties as consumer trends shifted. Staying ahead of the curve requires restaurant owners to do their due diligence when considering which tech solutions to adopt. It's not just about adopting new, exciting tech - businesses must consider both the benefits and potential obstacles new tech will create for their operations to determine the best path forward.
Before adopting technology, operators should consider if the tech is filling a void by solving a business problem or fulfilling a customer need. Otherwise, it could create setbacks if it malfunctions, requires excessive employee training or if there's an outage that prevents overall operations. When implemented for the right reasons, technology can provide your guests with a new, exciting experience or create a more efficient, sustainable experience.
Operators should be optimistic about the future of restaurant technology and approach it as an opportunity to grow and continue doing what they love. Considering both the drawbacks and benefits and carefully navigating if tech is right for their business will ensure they continue thriving for years to come.
---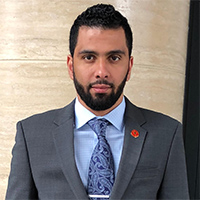 Ahmed Abouelenein is the CEO of The Halal Guys and son of one of The Halal Guy's original founders, Mohammed Abouelenein. Ahmed grew up working the original cart on 53rd and 6th and in 2009, became CEO. Since then, he has grown the concept to more than 100 locations within three continents through franchising with Fransmart.
---
Copyright © 1997-2022 Restaurant Report LLC. All rights reserved.