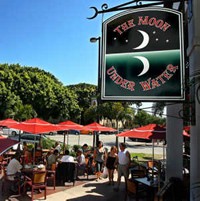 There is a certain level of boredom associated with staying home every night and most weekends. Eventually, humans, by nature, want to venture out of the cave and into the sunlight to find and mingle with other humans.
Summer's heat may well be the catalyst to bring out the most die-hard fiscal conservatives and return them to the restaurant scene.
While we at the Epicurus Institute don't believe economic recovery will be felt in the average home by summertime, we do believe that the public will be far less willing to hibernate throughout the year.
For restaurants, this means an increase in business volume, but with strings attached. The days of spending frenzy of 2005 and 2006 are over and gone, probably for several decades to come. The consumer is totally worn out and candidly, frightened to spend lavishly, on themselves or their family or friends.
Restaurateurs, particularly independent operators must adapt and revalue their menus. By this we mean to deflate the expectations of high priced guest checks to more moderate pricing that will be affordable to the average Joe or Jane.
That means toning down the extravagancies of haute cuisine to a much more comfortable level, with nothing on the menu that would scare away a customer worried about their job security.
It also means using unique in-house marketing efforts to retain business and pump up sales. Unfortunately, it also means giving away things like desserts. Even more unfortunately, it means restaurants must make up for lower tickets by building volume and that means shorter seating times. In some sense, you may have to give your guests the bum's rush to re-fill that seat several times during the evening.
This is not easy to do. But in-house marketing, fortunately can be cheap. A server walking through the dining room with a plate of freshly baked bread or sautéed onions will usually do the trick. Another great one is to give the children a warm, freshly backed chocolate chip cookie; the scent of these items prompting the senses to trigger hunger, which prompts people, by nature, to order just a little more.
There is a seed change taking place in the consumer's thinking and the profitable restaurateur will understand this change. Essentially, the desire people held for luxury and things "upscale" has come down to Earth, and is now converted, as it was in those post 9/11 months, to one in which consumers seek comfort, security and sound economics.
In the restaurant world, the days of snooty servers who rattle off a list of complex specials and look impolitely down on their guests is over. Today, servers must be much more cordial, gracious and friendly, giving the guest a feeling of being welcomed into the restaurant as if it were a neighbor's home.
The food, not merely prices and attitudes must change to meet these altered states. Menus must reflect that desire for comfort and ease. Gone are the days of the truffle and back are the days of the mushroom.
The fundamental desire for comfort food does not mean people want food poor in appearance or lacking flavor or creativity. Rather, a balance must be struck that affords a warmth and security, yet is still visually appealing. The fortunate part of this for restaurants is that often the cost of comfort food is far lower than haute cuisine.
But despite a potential period of growth during the summer season, many of our fellow restaurant operators, laden with heavy debt will not make it through the season. The Institute predicts another wave of closures by mid July and again in mid September as restaurants review quarterly and annual reporting. Many, we fear, will have defaulted by that time on mortgages and business loans, unable to meet their debt loads even with improved summer sales.
We strongly advise these restaurants to invest in a meeting with their banker to see if existing debts can be refinanced, provided the accounts are not already in arrears. Many bankers, aware that businesses are struggling at no fault of their own, are still viable, but could default. It may be possible for the bankers to work out a restructuring of the loans.
It is also particularly advisable to switch operations to a largely cash economy. Another difficult process, but one your accountants or consultants should be able to help with in quick time. This means providing discounts to guests for cash payment and paying your bills on a COD basis, whether necessary or not. Converting to cash will prove to your bankers that your business has taken the major, essential steps towards self-sufficiency.
By doing so, you'll also save greatly on credit card processing costs, which are going up, not down, as the banks and processors are under their own constraints and cost pressures.
As your client base resumes social life this summer, you have to work twice as hard to build their interest in dining in your eatery. This is going to mean innovative marketing efforts in the community. Consider community incentive marketing. For example, you tell your customers that for every $100 spent, you'll donate $5 to the local health clinic or food bank. While in past it was more socially acceptable to think in terms of the little league or soccer team, today, people are more concerned about social responsibility than sports and fun.
If you donate food to charity, let people know it and invite people to contribute. You might, for example, have a Thursday Canned Food drive. If someone brings in 5 cans of food (not expired), you'll give them $5 off their guest check of $30 or more, and let it be known the canned food is destined to a local food charity. Do the same thing with clothing on Tuesdays, and on Wednesday afternoons, use your space to create local job fairs, inviting local businesses to set up tables to interview potential candidates for jobs in your neighborhood. You will find your goodwill rewarded with customer goodwill and loyalty.
Tourism activities this summer more so than any year since the 1930's, will be local, not regional, national or international as in the past as more people learn to enjoy local attractions. We expect far less vacations and many more staycations. But a staycation is an equal tourism opportunity for restaurants. Network your business more than ever before with local tourism attractions, hotels, and organizations and be creative about it. Put up signs that say "Rediscover Your Hometown". Try creating local tourism packages… like mutual discount offers with cinemas, attractions and even the town hall. Yes, when someone pays their water and sewer bill, let town hall give them a coupon good at your business. Do the same with banks for mortgages and auto dealers.
In towns that usually have an influx of tourists; many locals are accustomed to hiding in season to avoid the crowds. Well, this year, crowds may not happen as they have, but the locals may need a little cajoling to bring them out to enjoy their own community's features. Use that as a marketing tool.
In other words, while we expect that summer will bring more trade than winter and spring, it will be an uphill battle to maintain your business. We believe it is both sound policy and good economics to try every intelligent and some good old fashioned crazy methods of marketing to build business volume.
As for the future, the media hype about recovery is just that - hype. With more than an estimated 30 Million Americans unemployed or unable to find work, recovery will be a slow process that could take years. The stock markets have effectively scared off young investors for at least a decade. With home values in flux in this deleveraging period, uncertainty will prevail for a few years and restaurateurs must consider that uncertainty as well as the general fear during this economic Depression. If restaurateurs can adapt, not only will they survive, but should do very well.
Remember, it's cool to be cheap. Work with that in mind and you should prevail and prosper.
---
Robert Angelone is Chairman of The Epicurus Group, a New Jersey consulting firm operating since 1978 with offices in Palm Beach, London and Los Angeles. Dr. Angelone is a Cordon Bleu trained chef and holds a degree in Economics. Dr. Angelone also publishes Epicurus.com, a major consumer website, online since 1996.
---