One for the Season's...
By Bob Bickell
"The best dish you've ever made just might be the next one" Chef Clifford Pleau, Season's 52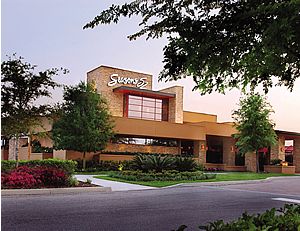 I received a surprise invitation to attend a media dinner at the new Season's 52 in Tampa. I say "surprise" because over the years I haven't been all that kind to the Darden's of the world, and they even invited me to speak with their Season's 52 President, Stephen Judge. I have always been an avid supporter of the independent sector and in spite of the fact that they have two restaurants in my hometown of Philadelphia, I had never even been in a Season's 52. I accepted both offers – the media dinner and the opportunity to talk with Mr. Judge.
Let me begin by suggesting that on this Thursday evening, the most challenging aspect of the dinner was finding a place to park. The restaurant offers free valet parking, but it looked like everyone in Tampa Bay who decided to go out for dinner this particular evening chose Season's 52.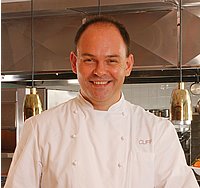 Our host for the evening was Chef Clifford Pleau, the Culinary Director for Season's 52. Stephen Judge described him as "one of the best chefs in America" and I believe him. This Culinary Institute of America graduate said and delivered all the right things. He spoke of using the freshest local ingredients and allowing the product to do the work. This chef believes he was placed on this planet to educate the public and even aspiring young chefs on the basics of good food. This is not (historically) what the chain sector is all about, and maybe it's time to invent a new designation for a concept such as Season's 52. It's not an independent and it's not anywhere near what one would characterize as a chain.
Year Round Favorites include Cedar Plank Atlantic Salmon, Grilled Rack of New Zealand Lamb, Caramelized Sea Scallops and Char Crust Filet Mignon. None of their entrees exceed 475 calories, which makes things healthy, which is part of the process. They talk about lean meats, good carbs, and extra virgin olive oil. They want you to be healthy.
Major credit has to go to Chef Pleau for his creation of desserts called "Mini Indulgences" which are perfectly portioned servings of Key Lime Pie, Pecan Pie with Vanilla Mousse, Mocha Macchiato, Old-Fashioned Carrot Cake, Rocky Road with Belgian Chocolate, Mango Cheesecake, Plant City Strawberry Shortcake, Market Fresh Fruit and Chocolate Peanut Butter Mousse. They are half the price of regular desserts and you would think more restaurants would have considered this many years ago.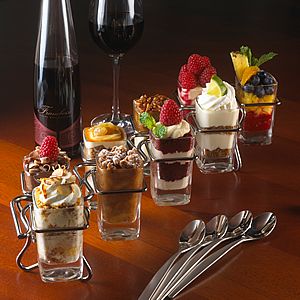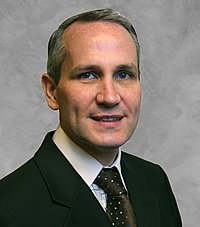 During my conversation with Stephen Judge, I learned a very significant thing. I knew he possessed enormous passion for the business because I have come to recognize the "passion" when I hear it. What I didn't know is the man is a trained chef. He actually became a professional chef in 1986 after completing his training and apprenticeship in the United Kingdom. He also holds a Bachelor of Arts degree in Hotel and Catering Management from Nottingham Trent University. Not all trained chefs end up in the kitchen, but the training is invaluable if you find yourself in any aspect of the hospitality industry. Mr. Judge has done well for himself, and while his office is not in the kitchen, he totally understands the dynamics of the presentation. Most recently he served as the Food and Beverage Manager for the MGM Grand Hotel in Las Vegas and this gigantic property included the first Five-Star, Five Diamond, and Michelin Three-Star Joel Robuchon Restaurant.
I used to sit in the meetings and listen to the independent owners bash the chains, and it was somewhat understandable. The chains had the money and the money bought the best locations, and the money bought all those colorful TV spots, and the money bought the staying power. Most importantly, they started buying the talent. When you think about the little guy against the big guy, it really isn't a level playing field.
Independent operators were basically tolerant of the Olive Gardens and the Red Lobsters of the world because they were seen to be in another league. It drove them crazy because they both did so well, but they cater to a different audience. They accused the chains of copying them, but they never really believed that a chain concept could ever deliver the quality that a chef-driven restaurant was capable of doing. In those days, it was almost unthinkable for a chef such as Clifford Pleau to join forces with the so-called enemy.
Season's 52 is possibly their worse nightmare. After all these years in the making, Darden figured out a way to replicate a true independent restaurant. We are talking about a Fortune 500 Company that enjoys annual sales of some 7.2 billion dollars. Darden is capable of doing anything they choose to accomplish, and that certainly includes creating an independent type concept. Stephen Judge suggested that Darden was one of those rare situations where a Season's 52 was actually possible. Again, Darden can do whatever they wish to do.
In a recent interview with Roy Yamaguchi of Roy's, which is a concept in a similar class with Seasons 52, he was insistent that Roy's was not a chain, and in point of fact, he seemed offended when I used the word. Stephen Judge is a bit more practical and he freely admitted that he joined Darden because they were financially capable of doing a Season's 52. To his credit, he wasn't pretending that Season's 52 was anything more or less than a chain. He understood the simplicity of the challenge. You hire outstanding chefs; you buy the best ingredients along with acquiring the best locations; and you can compete with anyone.
The new wording is "Chef/Partner", and that is what you will see with a Roy's and a Season's 52. Rightfully so, it's their way of saying that we are a "chef driven" restaurant, which in the eyes of the public is a good thing. Stephen Judge had the appropriate answer …"It's not about chains, it's about change!"
I am absolutely positive that if I visited each and every table on that notable Thursday night, and asked each guest if they understood that Season's 52 was really of the chain variety, they would have no idea what I was talking about. More to the point, they wouldn't care, and therein lies the dilemma for the independents – Season's 52 figured it out, and first and foremost, Season's 52 is "chef driven" and the food, ambiance, and everything else is orchestrated to fill the seats, and that is precisely what they are doing. The piano bar helps and their wine program is formidable with an international selection of 100 wines with sixty by the glass and directed by a master Sommelier named George Miliotes. He oversees all aspects of Seasons 52's wine and beverage program and he travels the world finding small, uncovered wineries ("Drink them before they become famous").
I do worry about the independent sector and it bothers me that in the not to distant future, big business (the chains) will totally dominate. I have come to accept the 80/20 rule and I see it happening right before my very eyes. Basically, the country will be 80% chains and 20% independents and I can live with that because there will always be independents and there will always be a significant audience for what they do. There's just going to less of them.
There is no possible way to reverse this trend because 80% of the dining public are simply not looking for or caring about the independent experience. And what can you say about a Season's 52 that is delivering an independent experience? The short answer is that it is what it is. You go and enjoy yourself. Stephen Judge and his orchestra (Darden) can make things happen, and in this case, it's working.
---
Copyright © 1997-2020 Restaurant Report LLC. All rights reserved.