Chef Joe Brown: Straight Talk...
By Bob Bickell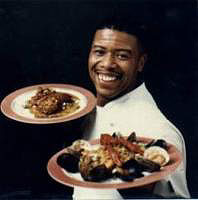 The Star Chefs (New York) recently shared the results of a most interesting study regarding the compensation of executive chefs in America. There was one noteworthy and rather dramatic result that in my mind needed further examination. They discovered that on average, African American executive chefs make 31% less than their white counterparts.
Something like this calls for more analysis, and I knew immediately where to go to get some answers. One of my favorite chefs is Joe Brown who is the chef/owner of the popular Melange Cafe in Haddonfield, New Jersey. I've known Joe for a long time, and I know in advance he is going to answer my questions without the proverbial political correctness. I sat down with the chef, and as always, it was most interesting.
RR: Here is a study that suggests the African American chefs are being treated a tad differently. In point of fact, 31% differently.
Chef: I did see the study, and my short answer is "what else is new"? I have been in this business for thirty-two years, and that's simply the way it is. Nothing has changed.
RR: "Nothing has changed" is too easy of an answer. Nothing has changed, but how do you explain it?
Chef: Survival in the restaurant business is all about economics. The less you pay out, the better your chances are of keeping the lights on. We are not just talking about the restaurant business; we are talking about business in general. African American chefs are part of a rather simple challenge - they are willing to work for less because they want to work. It's really that simple. It's not easy finding a job as an African American, and in reality, there are very few African American chefs to talk about. 31% is frightening, but hardly surprising. And keep in mind that the study also indicated that female chefs earn 19% less than their male counterparts, so equality across the board is somewhat lacking.
RR: I'm guessing that most executive chefs are of the Caucasian variety because there is a noticeable absence of both female executive chefs and African American male executive chefs.
Chef: You are correct, and there are a lot more explanations including the cost involved of attending culinary schools, and the constant explanation that we are hesitant to work in restaurants because of the historical aspect of slavery, and that it's somehow degrading waiting on essentially white people.
RR: Is Joe Brown hesitant to wait on white people?
Chef: Of course not. My restaurant will always be multi-cultural as so many restaurants have become. If you want to be in this business, you cannot allow prejudice of any kind to be involved. I have Asian guests that frequent my restaurant and you just don't see that in an African American owned establishment. At my place everyone is welcome.
RR: So things are getting better, but not really...
Chef: I would suggest it is even more difficult because of the increased immigrant population that have found work in restaurants all over America. It would be interesting to see the Star Chefs analysis of this process. When you have people willing to work for less, you are going to have employees getting paid substantially less. It's back to the economics of running a restaurant.
RR: I hesitate to make this discussion one of racism (so to speak), but you have been at it for thirty-two years, and you have seen a lot. From your personal experience, and your lack of shock on the 31% thing, I'm guessing you have been involved in some "work for less" scenarios.
Chef: It's more than just just getting paid. I once served as executive chef at a very prestigious restaurant, and they didn't want me to leave the kitchen. No one knew my name and the last thing they wanted to see was me being seen in the dining room. I have been offered many jobs where it was obvious they were trying to buy me for less. It's just the way it is. The secret is becoming an owner and being on the other end. The owner concept is especially true for women chefs, and allow me to say, I go out of my way to pay my people well. That's how you get good people.
RR: You have done it your way and I give you credit for what you have accomplished.
Chef: I appreciate that, but it still makes me wonder why the press is only interested in Joe Brown once a year during Black History Month. And by the way, in today's economy, we are all working for less, so there is some equality in this regard.
Melange Café
18 Tanner Street
Haddonfield, NJ 08002
856-354-1333
---
Copyright © 1997-2020 Restaurant Report LLC. All rights reserved.