Michael Psilakis, Kefi & Anthos -- New York, NY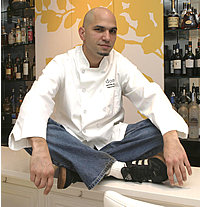 Michael's Tips For Success
1. Public Relations doesn't fill seats. It gives you the ability to be seen and heard. If your service and food are lacking, no amount of PR can help you.
2. If you work the Front of the House, learn the kitchen's needs. If you are a chef, learn what the front of the house needs out of the kitchen. By creating harmony, everything will be much smoother and more efficient.
3. Never be in a position as an operator to be reliant on someone else. It could be your downfall.
4. If you don't have total commitment to the business, you simply won't make it. It's that simple.
Michael Psilakis is the Chef/Owner of Anthos and Kefi in New York City.

This was an interview excerpt -- click here for the full interview...
---
Copyright © 1997-2020 Restaurant Report LLC. All rights reserved.