Interview: Kiong Bahn / Executive Chef / Audrey Claire & Twenty Manning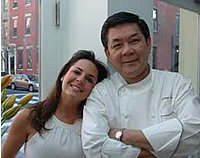 RR: They say a picture is worth a thousand words... Joining forces with Audrey Claire Taichman has proved to be one of the great decisions of your culinary career. You have worked in some very interesting restaurants, including several exciting years with the colorful Philippe Chin. How would you characterize your experiences prior to joining Twenty Manning?
KB: Looking back, my experiences have left me with fond memories and I have learned so much including how important composure is behind the line. I have worked beside some incredibly talented chefs who left lasting impressions on me, and I have carried so many lessons learned into my own kitchen. Patience goes a long way and my experiences taught me this. Having the right direction only reiterated that this is what I wanted to do for the rest of my life. It's a wonderful reward to find something that you love to do.
RR: It's interesting to note that you oversee the kitchens of both Twenty Manning and Audrey Claire. Audrey Claire was one of Philadelphia's original BYOB restaurants, and now the BYOB craze has officially taken hold. From the standpoint of the owner, do these two represent different worlds, or are we simply dealing with the presence (or the lack) of a liquor license?
KB: Although Audrey Claire and Twenty Manning have similarities, they are like two different little worlds sitting catty-corner from one another. Audrey Claire is a neighborhood friendly bistro that exudes a much laid back and comfortable vibe. Twenty Manning was created to represent a small piece of Soho, adding a chic New York style to Rittenhouse Square. People come to our restaurants for two very different experiences. Perhaps the only real similarity is in our approach to fresh ingredients and outstanding service.
RR: For years you have insisted on shopping for your own produce, and you just don't see many chefs spending the extra time and energy at the various markets. How important is this to you, and are there moments when you can envision a produce truck actually pulling up to your kitchens on a regular basis?
KB: A produce truck? No way. It is important and even enjoyable for me to select my own produce. I feel I have to be there to guarantee I'm getting the freshest produce I can buy. I like to know that my guests are getting what they pay for, and fresh flavors can make a big difference. Also, just being in the markets can spark new ideas that motivate me to experiment and perhaps try something new and different.
RR: We remember the days when many questioned Audrey's decision to open Twenty Manning. It was said to be too small, and some actually questioned the location. All these years later she looks like a genius and Rittenhouse Square is as popular as any area on the planet. Can it get any better than owning two wildly popular restaurants in such a beautiful neighborhood?
KB: Audrey has incredible vision, and the size of the restaurant has given it a cozy and romantic feel. Of course, the location speaks for itself and Rittenhouse Square has become a very special dining destination. We have an interesting combination of locals and the out-of-towners and the fact they keep coming back is very rewarding and gratifying. Our guests enjoy our restaurants and that's what it's all about.
RR: Audrey describes your cuisine as "urban Asian fare." We also know that you bring the concept of healthy dining as part of your presentation. What words would you use to characterize your cooking?
KB: The right combination of ingredients can make such a statement. My food is complex in only the right ways, and one must be careful not to overdue it. I don't want to confuse my customers, and I don't like my dishes to be too heavy. It's all about the importance of fresh ingredients and a complimenting presentation. That's what counts.
RR: Ms. Taichman refers to you as "the wisest man I know". Are you indeed the "wisest man she knows?"
KB: If I am the wisest man she knows, then I would suggest we are force to be reckoned with!
Twenty Manning
261 South 20th Street
Philadelphia
215–731–0900
Twenty Manning @ 22Spots.com
---
Copyright © 1997-2020 Restaurant Report LLC. All rights reserved.