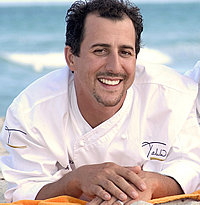 RR: What's your favorite thing about running a restaurant?
FR: The energy. When everything is running smoothly there's nothing like it. When things start to go wrong... It certainly is stressful but the energy created by the team putting things right is unbeatable.
RR: What's your least favorite?
FR: The time it takes away from my family is the biggest draw back.
RR: Talk a little bit about marketing. What are some of the things that Talula does to drive new and repeat business?
FR: Our strength is in our customer relations. We know our regulars and keep an eye out for them. If we don't see them for a while, we'll drop them a call or email, inviting them for a cocktail or a glass of wine. This hands-on approach is key to keeping business strong.
RR: And staffing, how do you ensure a great service experience?
FR: By never becoming complacent. We are constantly refining service, identifying weak spots and working at strengthening them. Service is the defining factor in a great dining experience; bad service ensures a guest will not return. We also listen closely to guest feedback and make sure to address complaints that have merit.
Frank Randazzo is Chef/Owner of Talula in Miami Beach, FL.

This was an interview excerpt -- click here for the full interview...