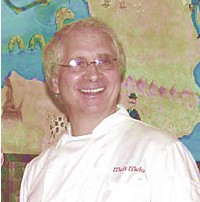 I have always enjoyed any conversation with Chef Bernard Ros of New York's Meli Melo Restaurant. It was a hot August day, and while we talked about one of my least favorite subjects (the economy) Bernard can't be anything but interesting. He brings a very simple viewpoint to running a successful restaurant - even in these somewhat impossible times.
RR: In terms of the economy, have you ever seen it worse that this?
Chef: Without a doubt, this is the worst I've seen it in forty-three years. One business after another is either closing, declaring bankruptcy or about to do so in our area on Madison Avenue. Almost every business is laying off employees which means they are putting my customers out of work (and for the most part, out of my restaurant). The recently refurbished hotel down the street is selling five-hundred dollar rooms for seventy-five dollars, and the tourists have yet to materialize. This is the first day of Market Week, and the streets are devoid of people. Everyone is suffering, and it's hardly the best of times to be running a restaurant.
RR: Let us not forget 9/11. One might suggest that this was worse than anything we are seeing today.
Chef: 9/11 was an unspeakable tragedy, and you are correct. You really can't compare the two situations, but at least New York reacted and offered a stimulus package (so to speak) that was designed to stimulate tourism in Manhattan immediately following those unforgettable dark days. They gave tourists a certificate for fifteen dollars off a meal in a participating restaurant. We received ten-dollars back for every certificate that we honored, and it was a tremendous help to the local restaurant industry.
RR: Do you see any light at the end of this tunnel?
Chef: I actually do. I believe that things will get better sometime in October, and we will enjoy substantially more Holiday parties than we did in 2008. Please don't hold me to this prediction, but things have to improve and October is as good as any.
RR: What does it mean to a chef-driven concept like Meli Melo when the economy gets this bad?
Chef: It means that I have to work even more hours, and it means that we have to do it with less people. It means that I have to basically eliminate all of my advertising, and regretfully, I have to deeply down-scale my charitable contributions in terms of gift certificates to charities and other causes. We're known for our fresh flowers and I even have to make cuts in this regard. You find yourself in a survival mode and you do everything possible to hang in there until things get better.
RR: What about something so critical as the menu?
Chef: You make adjustments, but you cannot cut quality. That's when you lose it. For the first time, I added a hamburger and that proved to be a great decision. We're serving lots of burgers, and it's something I should have done a long time ago.
RR: If you have learned anything significant from this dreadful economy, the hamburgers notwithstanding, what would it be?
Chef: Fortunately, I learned it a long time ago. You build a long-term relationship with your purveyors based on loyalty and performance (from both sides). In a sense, they become partners in your business, and if and when it gets to crunch-time, such as what we have today, your purveyors can be the best friends you will ever have. I have watched so many chefs jump from one supplier to another, and it's always over costs. Of course, the big costs come in when you haven't built a relationship and you find yourself in the impossible predicament of a bad economy while you are forced to pay cash upfront.

It is true that I have always said that the secret to this business is that you find a way to buy quality for less. The quality always has to be there, and the purveyor relationship might become critical to your ability to survive. You have to pay for the air conditioning and the rent or it's over, and if you mess with the quality that got you there, it's most definitely over.
Restaurant Report also spoke with this knowledgeable and entertaining chef/owner in 2005. Here is a link to that interview piece. The man is always interesting...
Meli Melo
110 Madison Avenue
New York
212-686-5551
www.melimelorestaurant.com