4 Things You Can Connect a QR Code to, Besides a Menu
By Megan Prevost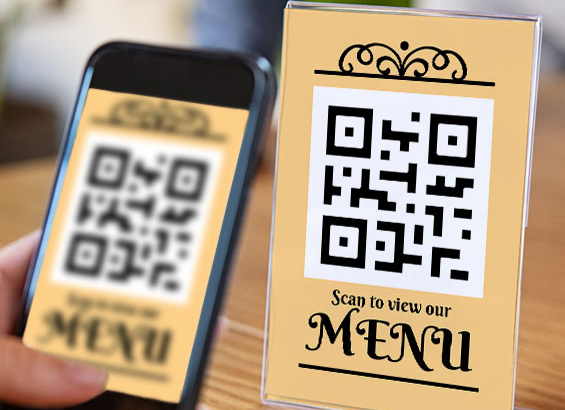 If we've learned anything in the last few years, it's that the future is contactless, digitized, and customer-oriented. Since the start of the pandemic in 2020, major changes have been made within the restaurant industry in an effort to keep up with rapidly evolving customer needs. One addition that has become commonplace in most restaurants is the QR code.
You've likely seen square, scannable QR codes printed on flyers atop restaurant tables or plastered on storefront windows. At the start of the pandemic, these nifty scannable codes were used as a way to share contactless menus with diners. Customers simply point their smartphone cameras at the QR code, and a web link pops up showing the restaurant's menu.
Printing menus and daily specials can be costly, time-consuming, and a waste of paper materials. Moreover, chefs and restaurateurs know all too well how quickly and unexpectedly things can change – from selling out of a dinner special to running out of a specific bottle of wine. QR codes are awesome for menus because they're contactless, but this technology also allows restaurants to easily update menus whenever needed. They also drive
traffic to restaurant websites, which is wonderful for the sites' Google rankings. While linking QR codes to menus or even ordering forms is a useful and common practice nowadays, you can get so much more out of these linkable codes. Here are four things besides a menu that you can connect a QR code to in your restaurant.
1. The Bill
The modern consumer wants easy. They want digital, fast-paced, simplified steps to just about everything, and the good news is that you can very simply give that to them. Having a readily-available QR code that links to a quick and easy payment is beneficial for the customer, but also for your restaurant staff.
Especially in an age wherein short-staffed eateries are struggling to keep customer service satisfying for diners, a payment through QR code is incredibly useful. Eliminate the "we've been done eating but are waiting for our server to bring the check" dilemma with this super simple solution.
2. Review Link
Hate it or love it – online customer reviews are extremely important when it comes to attracting and retaining customers. Don't wait for them to go home and decide on their own to open up Yelp. Give diners the option to review your spot while their experience is still fresh in their mind.
Moreover, when a restaurant is directly encouraging customers to write reviews, customers know that their opinion is important. That'll give your restaurant bonus points in the customers' eyes, even if they had a less-than-perfect experience. On a tabletop QR code or even on your restaurant's business card, you can entice customers to share reviews with a phrase as simple as "Write us a review on Yelp for 10% off your next check!"
3. Social Media Accounts
Garnering a following on your restaurant's social media accounts is a goal that many eateries work towards. Social media is a wonderful tool that can be used to remind customers about specials, tempt them with enticing photos of your best dishes, and foster a sense of community. Of course, this is easier said than done, especially if marketing isn't your strong suit, or if you don't have much time or money to put into that department.
If you provide a QR code that links to your restaurant's social channels, such as Facebook, Instagram, or TikTok, customers will instantly have your accounts on their feed with a simple click. Try using a fun phrase alongside the QR code to encourage guests to visit your channels, like "See more of the yummy goodness on our Instagram," "Follow us to be the first to know about our killer upcoming specials," or even, "Follow us on Facebook for a free dessert with your meal!"
4. Gift Card Purchase Page
Gift card sales are some of the best ways for restaurants to garner extra revenue and attract more new customers. Placing a QR code promoting gift card purchases either on your restaurant's printed takeout menu, business card or on the restaurant table is a great way to encourage customers to make these purchases. Once a customer has already enjoyed a pleasant experience at your restaurant, they'll be more inclined to purchase a gift card while the experience is still fresh in their mind.
Use QR Codes for More
Although the ever-changing, modernized needs of consumers can be overwhelming or tough to keep up with, most technological advancements and trending practices really can benefit your business. Taking advantage of QR codes can provide you with numerous opportunities to help your restaurant grow and flourish.
Setting up and displaying these QR codes in and around your restaurant can help boost your customer satisfaction, grow your online audiences, increase revenue, and make it easier for you to gain valuable customer feedback. Consider how you can use QR codes to improve the success of your restaurant and reap the benefits of modern technology!
---
Megan Prevost is a content manager for MustHaveMenus. When she's not writing about restaurant marketing, she's hanging out with her four cats and binging the latest television shows. Her work has appeared in All Business, App Institute, Bar and Restaurant, Bar Business, Beer Connoisseur, BevSpot, BiziTracker, Business Opportunites, CLH News, CFE News, FanSided, Fearless Flyer, FSR, Ganjaprenuer, International Bowling Industry, Miss Details, Modern Restaurant Management, Mosaic Solutions, PMQ, QSR, RestoBiz, RestoHub, Site Social SEO, Small Business Currents, The Daily Fandom, Total Food Service, and Wisk.
---
Copyright © 1997-2023 Restaurant Report LLC. All rights reserved.